So I was doing pretty good at the beginning of 2009 with blogging... but since we've been back home from Durango I haven't felt like doing much of anything.  I've been a lot better at actually cooking dinner before eight ( Usually TJ will give in and cook) but other than that I mostly just nap, eat and watch the 7 TV channels that we have.  I'm just saving my energy for the baby! And speaking of the little kiddo, he'll be here in about a month. My due date is March 28th and I can't believe its right around the corner. But I am so ready!! Mostly because I'm tired of being pregnant. And now we have everything ready and set up for the baby, its teasing me to stare at an empty crib all the time. Last night I asked TJ to tell the baby to get out of there haha... I'm not crazy. I won't be drinking herbal teas or eating dandelion salads to go into early labor, just thinking about labor scares the crap outta me :] I wish there was a way to just skip all that and then have a kid! Oh well.
OK... enough rambling (once I get going I can't stop!) I promised pictures of the baby shower so here they finally are. 
My first shower was in Durango at TJ's grandparents house. It was hosted by Gram, his step-mom Irina and his birth mom Aimee.  They invited all the ladies from the ward so that I could meet everyone and everyone could meet me (before that I was kind of like a myth... "TJ's cute adorable wife"). There were lots of people there and we were so blessed that everyone brought a present, actually they all brought giftcards so once we got home we were able to buy everything we wanted/needed. There was a great food selection and a huge cake. And we played the typical babyshower games: guess the belly size, name that poop (melted candybars in diapers), blindfolded diapering, and I know there was more but those are the ones that stood out :]
This is Grandmommy  Aimee, TJ's biological mom. Kemper is going to have a lot of people to spoil him :]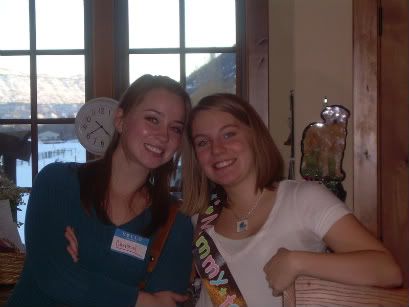 And this is my BFF in Durango, Christal and I can't wait to live closer to her. I first met her in May when TJ and I went out for her wedding. I ended up catching the bouquet....so she's the one that got this ball rolling ;] just kidding. 
Here are some of the guests from the party, the redhead cheesin it up is TJ's sister Alexa... aka babysitter #1 haha.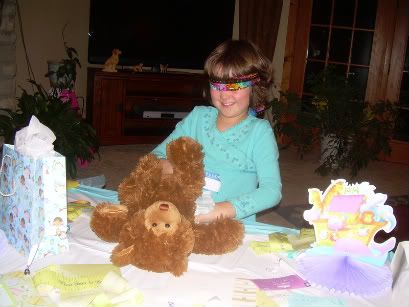 This is the blindfolded diaper game. Anastasia did really good at all the games, she was the one closest to my actually belly size!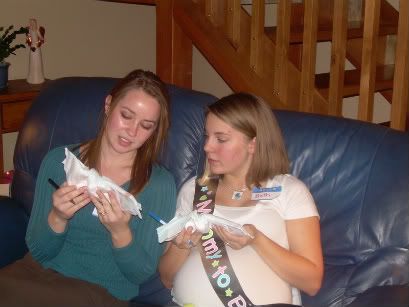 Christal and I in deep thought over the poopy diapers. This game always grosses me out but we ended up winning! I think we got 5 out of 7. I won this at the last babyshower I went to as well. When we told TJ that I won, he then proclaimed.. my wife knows her poop! He's totally getting a picture of baby's first poop :]
And there are a whole lot more pictures but I'm too lazy to post them. We had another baby shower here in North Carolina. Some of our friends had it at a restaurant and we all just ordered appetizers, drinks and talked for a few hours. It was great, unfortunately I didn't take any pictures :]