Kemper is 3 weeks old today! We had his 2 week check up yesterday (a little late, but we had to wait for tricare to transfer). He now weighs 9 pounds and 4 ounces and is 20 1/4 inches long. Obviously we've got this eating thing down! I'm going to start pumping and introduce the bottle next week. He started as a really easy going baby and now he's starting to get fussy. Some nights he can only sleep if I'm holding him and cries bloody murder if I put him down. And occasionally I just have to let him cry it out and go to sleep. I hate to but I've got to keep (whats left of) my sanity.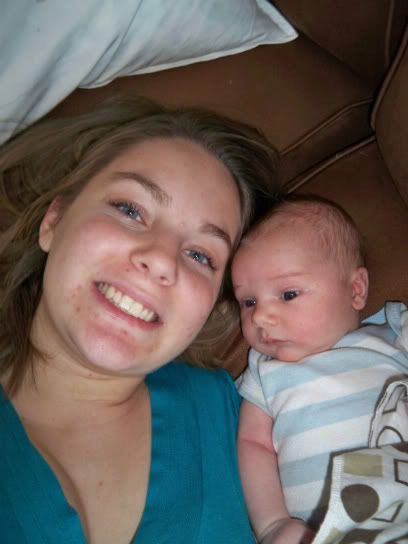 Other stuff:
Ikea furniture is awesome for poor newlyweds, but it is not made for moving. Nothing is too badly damaged but its fairly dinged up.
Kemper and I are currently living in the manager suite of one of the hotels that TJ's family owns. Its great to have a free place, we're saving so much money. Which is a big difference from living paycheck to paycheck. Now I just have to buckle down and start cleaning the place...
Times when Kemper is on a non-stop crying tirade or when he won't let me put him in the carrier to do laundry or I need to lift heavy things or put our furniture together is when I really miss TJ. Just kidding, I miss him all the time. Right now I really can't stand the Marines.
I've cried everyday for the past 3 weeks, thank goodness for hormones!
I barely squeezed into pre-baby jeans this week. Hate me if you want but I have to brag. They're still pretty tight but it makes me happy that I'll most likely be able to wear my old clothes again (which I have 5 boxes of)
And I'm being summoned by mr. grumpy pants....